Apple has officially revealed the new Mac Pro desktop computer, sporting a fresh new design and tech array assembled right here in the USA.  This Mac Pro looks very different from the last one.  Gone is the brushed-and-perforated aluminum chassis that has been Mac Pro's visual staple for ten years, now replaced by a small black obelisk.  The new Mac Pro is one-eight of the size of the last model, but Apple still manages to fit plenty of power in the new diminutive form.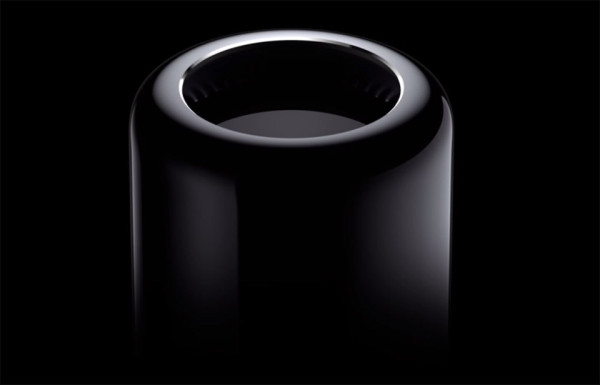 Apple: When we began work on the next Mac Pro, we considered every element that defines a pro computer — graphics, storage, expansion, processing power, and memory. And we challenged ourselves to find the best, most forward-looking way possible to engineer each one of them. When we put it all together, the result was something entirely new. Something radically different from anything before it. Something that provides an extremely powerful argument against the status quo. Here's a sneak peek at what's next for the pro computer.
Engineered around workstation graphics with dual GPUs, PCI Express-based flash storage, high-performance Thunderbolt 2, new-generation Xeon processors, ultrafast memory, and support for 4K video, the new Mac Pro delivers state-of-the-art performance across the board.
The new Mac Pro is muscle through and through, starting with the new-generation Intel Xeon E5 chipset. With configurations offering up to 12 cores of processing power, up to 40GB/s of PCI Express gen 3 bandwidth, and 256-bit-wide floating-point instructions, you'll never be at a loss for speed.
In creating a pro computer for the future, they wanted to provide an enormous amount of expansion — without being limited to the space inside the enclosure. Designed with built-in Thunderbolt 2, USB 3, Gigabit Ethernet, and HDMI 1.4 ports, Mac Pro sets a new standard in flexible, high-performance expansion. It's our most expandable Mac yet. And it has everything you need to build a workstation completely customized to what you need and how you work.
All images © Apple
via Apple